I have joined in on a wonderful project, and I want YOU to too!!
The past few months I have been wanting and itching for a pen pal so badly I couldn't stand it! Imagine my excitement when I stumbled upon Kellie's blog! She has dedicated her time and effort into organizing this beautiful pen pal project! I emailed Kellie and once and she responded so quickly! I want you guys to share in on this project as well! Doesn't it sound so fun and romantic, in a totally non romantic way?
Here are a few stats that Kellie shared;
-She started the program in March 2010.
-Since opening, she has formed over 10 groups of at least 10-15 girls, a total of almost 145 girls!
-She has had a gal from every continent except Antarctica. AMAZING that this project is International ♥
I have included the link on the left side of my page and I think you guys should check it out! The sooner she gets more participants, the sooner we can all start swapping snail mail!!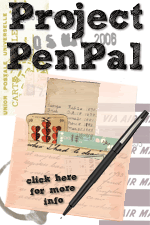 Eeeeek!
Love Love,
Shawni Marie